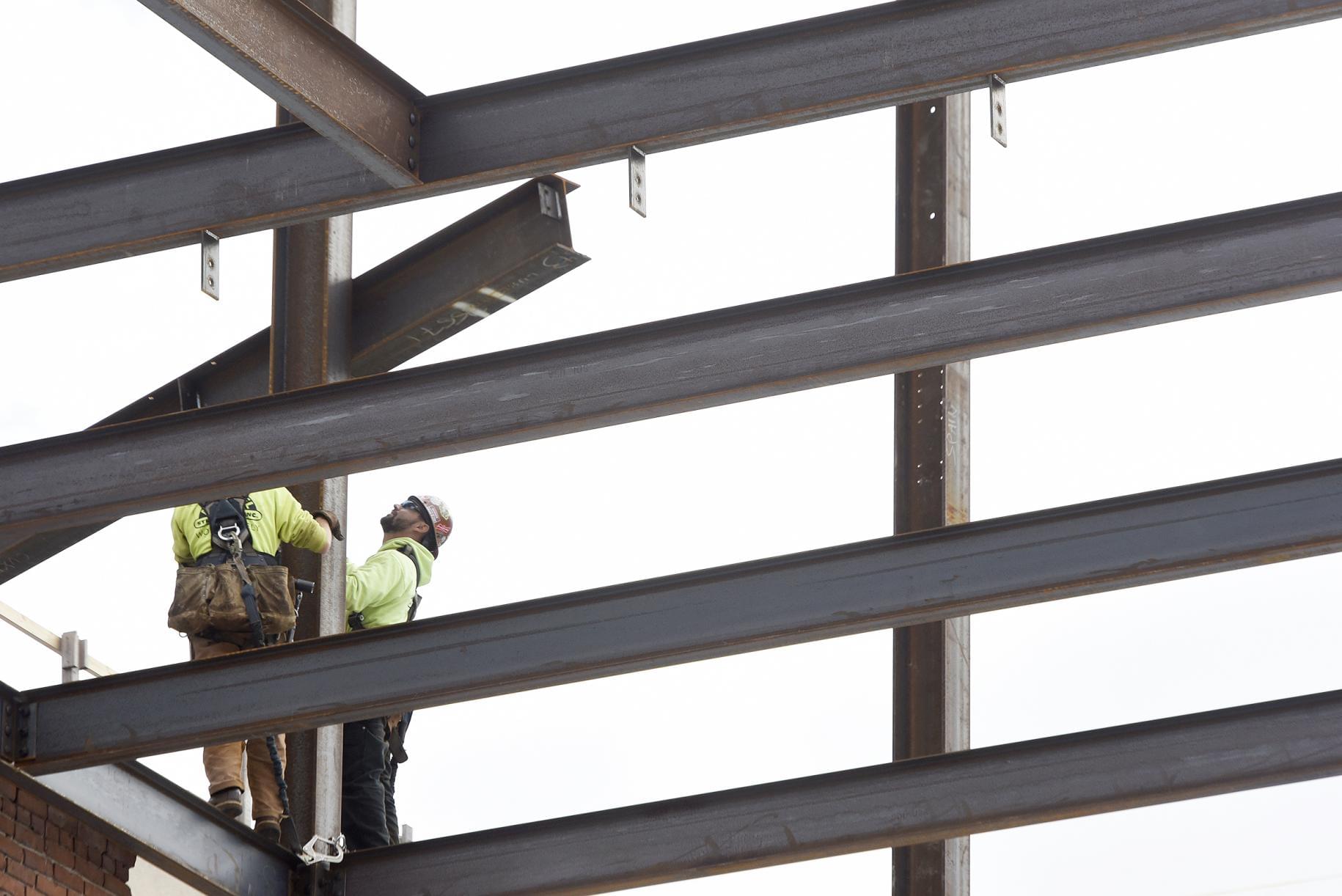 Construction workers building one of the structures of Mill Artisan District in Schenectady on October 15, 2018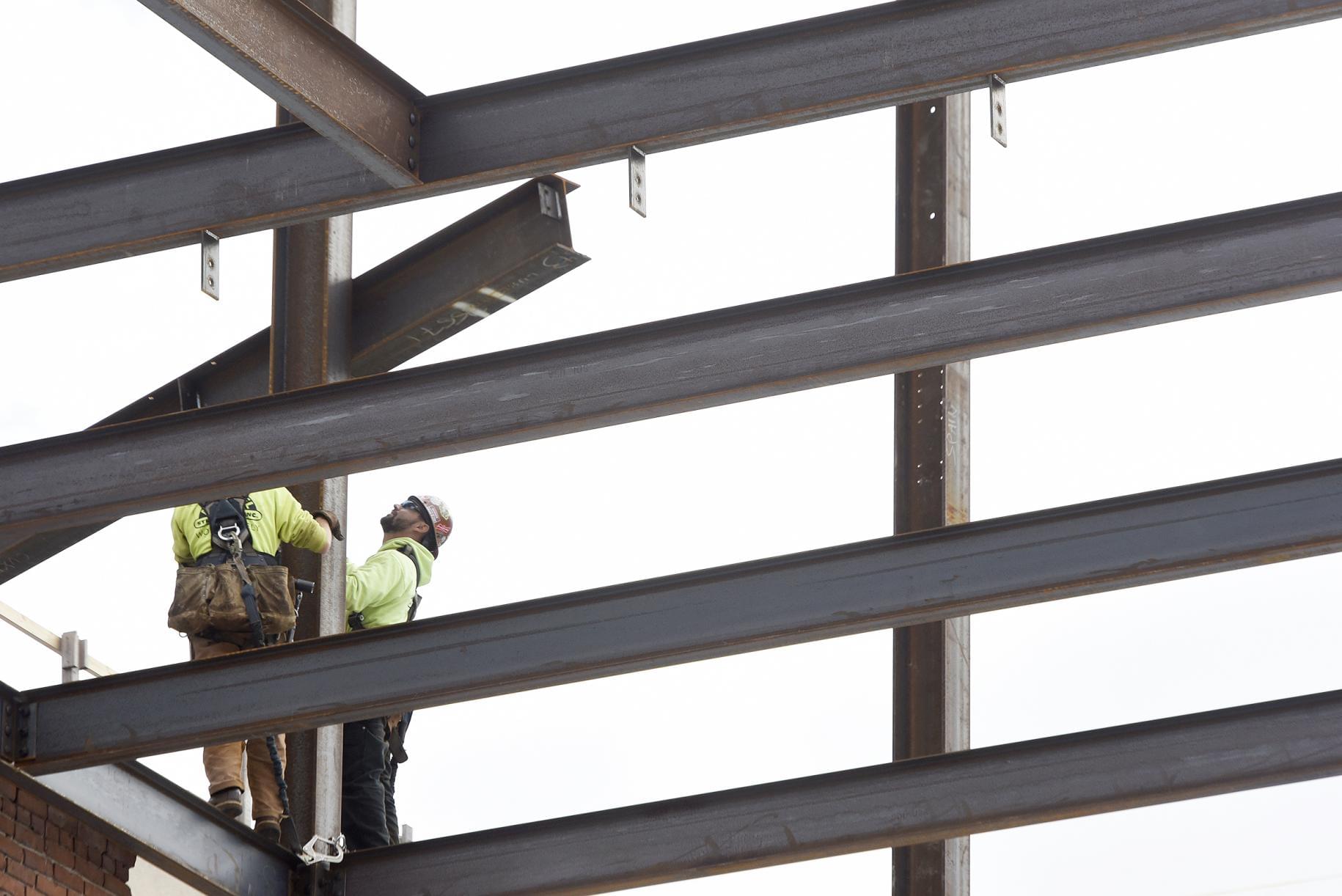 The company will be at that business incubator until its new space is built
SCHENECTADY -- A temporary tenant has moved into the New York BizLab while it waits for its new digs to be completed.
The Jahnel Group, a software developer, is leasing the business incubator space while its new office in the Mill Artisan District is built. The business announced in February that it planned to move out of its office at 242 Union St. because it outgrew that space. The firm's 11 employees have now moved into the BizLab, according to Jon Keller, CEO of ServiceNow -- a division of the Jahnel Group.
Keller said they have a six-month lease with BizLab, with a month-to-month renewal option thereafter.
"This is definitely a temporary spot ... until they finish building all of that out," Keller said.
Jahnel Group has a total of 63 employees, but the 11 who work out of the BizLab come from the ServiceNow division, which focuses primarily on custom software development.
The move to the BizLab came from discussions between Jahnel Group CEO Darrin Jahnel and Schenectady County Metroplex Development Authority Chair Ray Gillen.
Keller said Gillen proposed a couple of temporary locations for the company. Gillen eventually connected Jahnel with Antonio Civitella, founder and president of the BizLab and president and CEO of Transfinder Corp, Keller said.
Gillen, in a press release, said he was more than happy to make the connection.
"We are excited to see Transfinder, the BizLab and the Jahnel Group all work together to add to the redevelopment momentum on lower State Street," Gillen said.
Civitella, according to a press release, was equally pleased about the software firm's temporary arrangement.
"This is a fast-growing tech company that is working on some amazing projects," Civitella said in a prepared statement. "They will add even more energy to the BizLab."
Keller said the Jahnel Group was "bursting at the seams" at its current location -- a circa-1880s mansion Jahnel renovated into offices in 2010. It is approximately 7,500 square feet.
Once they move out, Keller said the plan is to rent out their former offices.
The new location will be 11,000 square feet of office space on the top floor of the Mill Artisan District building, with a 6,000-square-foot annex attached to it.
Keller said they have the option to expand into that annex if necessary.
The company's growth, Keller said, came as it took on new clients. The company has been rapidly growing since its inception in 2012, with 436 percent growth in revenue over the past three years, according to a press release.
That growth landed Jahnel on the Inc. 5000 list as one of the fastest-growing privately held companies in 2018 and 2017.
The new space, Keller said, could hold more than 90 employees, if fully occupied.
"The idea is to move into that spot and continue to grow," he said.
Keller said the company chose to remain in Schenectady for several reasons. Not only is the cost of living better than in places like New York City or Boston, but Keller said a lot of the talent they need is in the Capital Region. There's also the fact the city is going through its own revitalization, which Keller said the company is happy to be part of.
"It's a great place to live," Keller said.
The Mill Artisan District is a multi-use project that will be home to other office space, loft apartments and culinary and craft brewing programs that will be run by SUNY Schenectady.
Occupying the ground floor is the soon-to-open Frog Alley Brewing Co.
Keller said he hopes to be in the new space in six months to a year.
"Hopefully we're not more than 12 months out," Keller said. "But the BizLab have been amazingly accommodating, so I can't imagine it being a problem even if it were."